2020
GHS – Digital Flower & Produce Show
It's Show Week!!
Many thanks are extended to everyone who has submitted their photo entries. A super selection of arts, crafts, baking, flowers and vegetable have been received.
A very big shout out to the people who help their friends and neighbours take part by taking photos and sending them in.
We are sharing the slideshow videos on a daily basis of the entries on our Project Page and on Glen Urquhart Horticultural Society Facebook page.
Monday – Children and community Sunflowers
Tuesday – Flowers
Wednesday – Vegetables & Fruit
Thursday – Floral Art; Arts & Crafts; Baking, Jam & Drink
Friday – Produce; Gardens; Tatties
---
Strathglass  and Aigas Communities
Resilience Funding Secured
We are delighted to share that  Strathglass Community have been awarded an additional grant of £19,200 to continue to offer Covid-19 support. The initial award was for £23k from Scottish Governments Supporting Communities Fund. This fund is to support residents throughout Strathglass and Aigas during what can be difficult financial times for people.
Soirbheas have been supporting Strathglass and Affric Community Company with ideas and producing a newsletter which will be delivered to every household. You can download the newsletter here. Or visit the dedicated page on SACC website for further information.
If you have any concerns or need help you can call the Strath and Glens Community Resilience Helpline on 07516 317180
Local charities and constituted groups can receive help through Soirbheas Community Fund, which has been set up specifically to help our local organisations with some help towards costs incurred due to the lock down. See our news article for information or contact Carol to discuss [email protected]
Please help us ensure everyone knows about the support that is available by sharing information. Please be assured all queries and support provided are treated in the strictest confidence.
---
Local Transport Project
Hub and Solutions
By adopting  a partnership approach and following community consultations and feasibility studies, the above project is progressing and we should know the outcomes from the funding applications shortly.
See our project web page for background and to view the summary and full reports.
If you have any further queries please contact Carol [email protected].
---
Groups and Clubs
Glenurquhart and Strathglass
If you are new to our communities, a very warm welcome. We live in a beautiful area and don't need to travel too far to find a group, club or organisation that is of interest. There is something for everyone, and everyone is welcome, from the very youngest to the more mature. Hopefully we all be able to resume taking part in activities and events soon.
For example have a look at:
Our local health walk group meet on a Tuesday at 2pm
Get involved with local heritage and find out more about Cnocan Burriadh
Lots to do with gardens and growing including our annual Tattie Day
Before lockdown we distributed a welcome letter and clubs information through letterboxes, the library, and by email.
You can sign up for Soirbheas newsletters (link at the bottom of the page index) and we'd be delighted to have you as a member.
Our resources page has a copy of the current groups directory, renewal & energy saving education pack, our meeting dates and other useful information.
If you need any help, advice, signposting; or have an idea for a new or existing community group please get in touch.  As well as providing support, we also have three tiers of grant funding to distribute to local groups  and funding for apprenticeships.
Carol email: [email protected]  and Nicky email: [email protected] are here to help.
---
Board Meeting
Thursday 27 August

All members cordially invited to attend the next Board Meeting on Thursday 27th August at 7:30pm. Due to current restrictions on group meetings we are hosting this via telephone conference.
For the agenda and joining instructions pleasing contact Carol [email protected]
---
Annual Flower and Produce Show
***STOP  PRESS***
The Horticultural Society are not letting the current lock down completely cancel the annual show and this year you are invited to be involved virtually.
Lorna and Helen of the society told us "We won't run as a competition but will give hints and tips on what judges look for in a vase of perennials or a selection of vegetables etc. With support from Soirbheas we will be gathering photo's of your produce to share with the community. You may want to start taking photographs just now ready for the schedule being distributed next week. Then on Monday the 31st August, on a daily basis, we will start to publish the photo's submitted in each category along with the hints and tips to help get you ready for the show next year".
Any queries please contact Helen through messenger or comment on their Face Book page  
or Nicky at Soirbheas [email protected]
See our project page for more information and download the schedule as a Word document or view as a PDF
Here are some entries from previous years to inspire you. The featured image above is from Jill Hodge, one of the finalists in our recent photo competition.
---
Cnocan Burriadh
Mausoleum Cap Now Repaired
For safety the site has been closed to allow scaffolding to be erected around the mausoleum. We will let you know as soon as the site is reopened.  A new cap has been installed which will result in the marble being better protected from the weather.  The next stage about to start is the conservation work to the marble.
The current concrete cap was made of concrete, had a lot of moss and had become quite porous causing problems to the marble below, as can been see in the aerial photo.
The solution (recommended by Historic Environment Scotland) was a lead cap over the concrete with a drip channel so water doesn't run down the face but falls off the cap. After the marine ply base was fixed a specialist lead worker installed a stainless steel skirt around the edge of the concrete before installing the lead cap. The top is not as square as it looked at first glance and the best way to join the lead sheets was to roll them over round batons.
The shape also meant that many layers of lead were meeting at the centre. So the lead workers recommended a small feature as a way to ensure the centre is totally weather tight, which looks great!
Read more about the project and how to get involved on our web page 
---
Sponsored Walk for The Glen Care Project
Meall Fuar-Mhonaidg
The walkers are nearly at their fundraising target of £1000 for the Glen Care Project.
Fundraiser for the Centre, Tash MacNicoll has organised the group to take on Meall Fuar-Mhonaidh – "Hill of the cold slopes!"
She says –  "A team of extremely keen locals are joining together to take part in a sponsored walk up Meall Fuar-Mhonaidh. This is to raise funds for the Glenurquhart Care Centre. In the midst of what has been dubbed "a charitable crisis", we are struggling financially now more than ever. Please show your support by getting behind us all and donating what you can to help ensure the continuation of our support to the elderly in our community through the global Covid-19 pandemic.
(Please also keep your fingers crossed that the hill doesn't live up to its name "Hill of the cold slopes" on the day!)"
To donate go to https://glenurquhartcareproject.enthuse.com/…/sponsored-wal…
Good luck everyone, we'll look forward to the photo's, similar to the one in our featured image above, from Billy Hives which was one of the finalists in the Soirbheas competition.
---
Food Larders
Now 'Open' in Drumnadrochit, Balnain, Tomich, Struy and Cannich 
We are delighted to report that  we now have 6 food larders operating across Glen Urquhart and Strathglass, based in:
Drumnadrochit
1 – Bus shelter at the bottom of Balmacaan Road
2 – Outside the former Tourist Information building in the main car park.
Balnain – Bus Shelter
Cannich – Bus Shelter
Tomich – Phone Box
Struy – Bus Shelter
It is difficult times for people just now and a little support can go a long way. The aim of the Larders is to make essential supplies as accessible as possible, particularly to those living in our rural communities. It is often challenging to reach people that are most in need and no more so than now. Added to this not everyone knows where to go for support or they may simply feel they "can't ask.  If you need something essential that is not on the shelves – such as baby formula or nappies – please send a text to 07842781986 or 07514452783 and we will help.
Soirbheas have provided the initial stock, including a range of food products, toiletries, household cleaners and baby products. We are hoping that the larders will be stocked through donations from our residents and local businesses.
Please observe social distancing when coming to the hall, and use the hand sanitiser provided when visiting the larders.
Following on from the success of plant swaps in the village and the veggie grow boxes set up last year by Gro-Urquhart, we would like to encourage people with spare seeds, plants or vegetables to leave donations at the Larder at the Former Tourist Information car park.
If you have a couple of hours free and would like to volunteer to help at the donation point and restock the larders please get in touch with Nicky [email protected] Tel: 07842781986
We would still encourage people in need of further support to call the Community Helpline 07516317180.
Many thanks to the support from our partners, the local Churchs and to all our volunteers assisting with this project.
---
Digital Funding
Funding to Get Connected
A new £5 million programme will offer an internet connection, training and support, and a laptop or tablet to vulnerable people who are not already online during the response to coronavirus (COVID-19).
The Connecting Scotland programme will connect 9,000 more people who are considered at clinically high risk themselves so they can access services and support and connect with friends and family during the pandemic.
Those who take part in the programme will be paired with a 'digital champion' to support them for six months while they get connected and find the information they need.
---
Community Resilience
Covid-19 Newsletter
Firstly, and most importantly we hope you are keeping well during these difficult times.
The resilience working group have produced a Newsletter, with lots of useful information. Copies of these will be dropping through post boxes and by email in the next day or two. If you know someone who would like a copy please get in touch and we shall add them to our database. Please share email copies with your friends and family.
If you are part of a local group, we also have funds available to help with costs for utilities or delivering service during the lock down. Have a look at the Guidance and get in touch for more information – [email protected]
Please do not feel alone or isolated, give your local Community Helpline a call and we will help where we can, or signpost you to the right place. T: 07516 317180
The service is for those in need regardless of age or where you live in Glen Urquhart and Strathglass.
We currently have around 100 volunteers registered to help and will let you know if we need more. In the meantime please share information with neighbours, friends and family who may be in need of support.
Community Helpline Poster – March 2020
---
Cnocan Burriadh
Wall  Pointing  Complete!  
Great job, looks fantastic and super that some of the restoration works have been able to be completed while everything else on the heritage project has been postponed.
Look at the changes from the photos below!
Can't wait to see the railings and the monument restored.
---
Soirbheas Grant Deadlines for 2020
Soirbheas Grant Deadlines announced for 2020.  Since the Tier 1 (up to £500) grant programme opened in 2014 thirty-three groups have been supported and over 60 grants awarded.  The Tier 2 grant programme has supported 12 groups to a total funding allocation of over £178,000. We are also currently supporting 4 modern apprentices. To find out which groups have benefited visit Grants awarded.
To learn more about funding available from Soirbheas please visit Soirbheas grants.
We are always keen to hear about your projects and plans to see if we can assist contact:
[email protected] or call 0751 445 2783.
---
Glen Urquhart Health Walks
Temporarily Suspended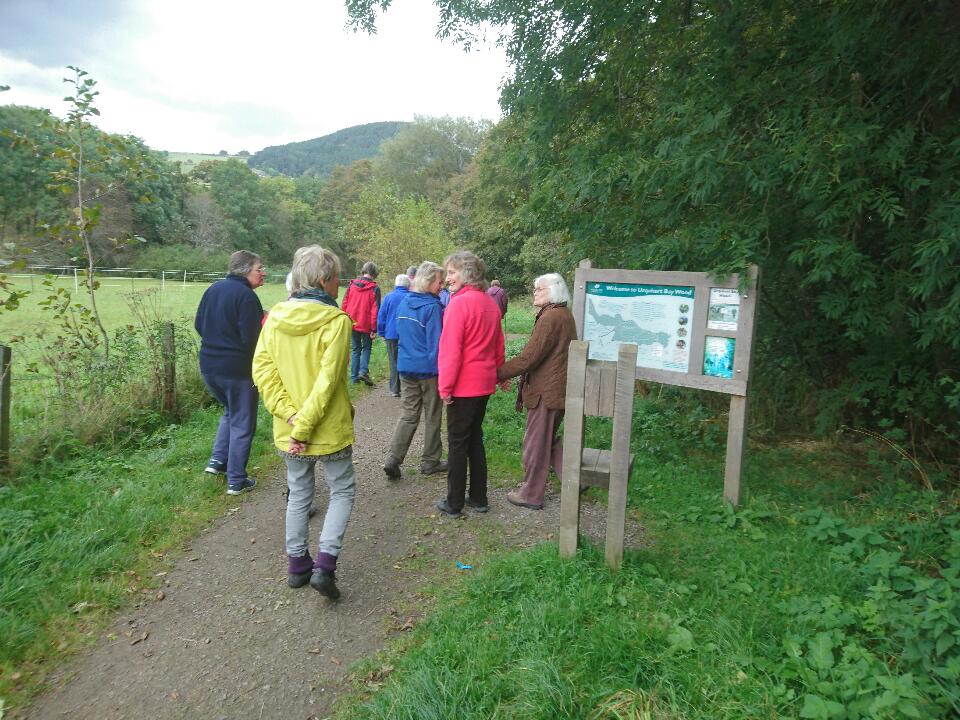 Due to the coronavirus the weekly walks have been suspended. We will keep you informed of when they will resume.
For new walkers, just to let you know our group extends a warm welcome, is free, friendly and for everyone regardless of ability.
Our walks are dementia friendly with trained walk leaders.
More on our web page and our new leaflet for 2020
Group contact is Carol Masheter:   [email protected]   mobile tel: 0751 445 2783
---
Good Practice for Engaging and Supporting Volunteers
NEW GUIDE   
Optimising Health and  Wellbeing Benefits from Volunteering
Individuals with the most to gain through volunteering can often be difficult to engage and the easiest to ignore. Volunteering may be something they have never considered doing and they may not know anybody who volunteers. They may face a range of practical, emotional and structural barriers to engaging in volunteering.
As a voluntary organisation, club or charity, you'll find this new guide useful to provide the best support for potential and current volunteers. It is structured in nine stages relevant to the engagement, management and support of volunteers. Links to relevant resources, documents and templates are also provided.
---
BEAULY AND GLENS HELPING HANDS BEFRIENDERS
An  Hour  a  Week
The "Beauly and Glens Helping Hands Befrienders" serves Drumnadrochit, Glenurquhart, Strathglass, Beauly and surrounding areas, and is proudly funded by Beauly Cares and Soirbheas.
When you request to join the free service you are matched with a suitable volunteer.  With your befriender you agree on a convenient time and place.
Anyone can join the service, regardless of age.  More information on the Glenurquhart Care Project website.
If you would like more information, to volunteer or would benefit from our service please get in touch with the Coordinator – Natasha:
email: [email protected]
Telephone: 01456 459 077
Glenurquhart Centre 31 Coiltie Crescent Drumnadrochit IV63 6TR
---
Scottish Government SME Loan Scheme
Interest Free Loan            
Reduce your business's energy costs and receive up to £10k cashback with an unsecured, interest-free Scottish Government Loan
Reducing your energy use isn't just good for our planet, it's great news for your business's bottom line too. In fact, advisers from the Scottish Government's Resource Efficient Scotland programme typically find that by taking action to reduce their energy use, Scottish small to medium-sized businesses (SMEs) can easily slash 24% off their energy costs – and there's never been a better time to act.
The Scottish Government's SME Loan Scheme is helping businesses across Scotland to reduce their energy costs and environmental impact.
Over £26 million of unsecured, interest-free loans have already been provided to Scottish SMEs – and over 1,000 cost-saving, profit-boosting projects have been supported.
Right now, while funds last, SMEs that use the loan to install eligible measures will receive 15% cashback on completion of their project (to a maximum value of £10,000).
The loan can be used to implement a wide range of resource efficiency measures to help you cut costs and carbon emissions. For instance, investing in new LED lighting, installing more efficient heating systems and insulation or upgrading machinery and IT equipment – the list goes on.
Taking out an interest-free loan to cut energy bills and also receive 15% cashback really is a win-win for your business. A good example can be seen at Ayrshire-based textile producer Robert Mackie of Scotland which used the interest-free loan to upgrade its knitting machines to a more energy efficient model, creating annual savings of £96,760 and 40.8 tonnes of carbon.
Another manufacturing business that has benefitted from an SME loan is Eyemouth Freezers, an independent food-processing company based in Eyemouth. The company used the loan to install new LED lights and upgrade its equipment, and is now set to save over £30,000 a year.
And it's not just manufacturing businesses that can make savings. Highland Farm Cottages used the SME loan to fund new heating and solar PV installations, saving over £19k on its energy costs.  Offices up and down the country can benefit too by installing new lighting and heating or even just upgrading IT equipment, like MBM print did.
So, what are you waiting for? To find out how your business could benefit, contact Resource Efficient Scotland's friendly advisers today by calling
0808 808 2268 or emailing [email protected]. Or visit their website.
---
New Soirbheas Directors Needed!
Join our Team!    
Would you like to give something back to your community?
Board Members work alongside our Community Development Manager to manage Soirbheas and help to distribute funding.
The charity works across the whole community and has now distributed over £170,000 of funds and is involved in numerous community development projects and initiatives.
We are particularly keen to recruit a new Board Member from Strathglass but would welcome new directors from across our communities.
If you would like to support our work and learn more about becoming a board member visit our vacancies page
contact Carol by email [email protected] or phone 0751 445 2783
or have a chat with one of our directors see our  Staff & Directors page
---
 Cnocan Burraidh
Heritage  Project  Underway
This project is being managed by Glen Urquhart Community Council. Soirbheas are very pleased to be involved and keen to ensure historic sites like this are protected for future generations and their stories brought to life.
The first phase is to preserve the site and will include the restoration of the perimeter walls and a detailed survey of the central marble vault.
The Cnocan Burraidh graveyard covers 300 years of local history and the people buried at the site include people of national importance such as General Sir Charles Grant who was in charge of the Scottish Army in 1939;  key figures from the early part of the British Empire in India; and  Sir Theodore Gervais Chambers the Chairman of Welwyn Garden City from 1920 to 1950.
Historic Environment Scotland will be working with local groups, pre-school children and school pupils in researching the archaeology and history of the site and helping to create an archive that will be available to locals and visitors alike.
The Glen Urquhart Community Council are especially grateful to the landowner John Cameron for his support.  They are delighted to have secured funding from Heritage Lottery Fund; Historic Environment Scotland; Private Donation; 1745 Association; Kings Shropshire Light Infantry; Soirbheas; Glen Urquhart Rural Community Association and Glen Urquhart Community Council.
Ríona McMorrow, Acting Head of The National Lottery Heritage Fund Scotland, said: "Cnocan Buraidh Grave Yard restoration and heritage project is a great project as it shows clearly how local heritage can be a catalyst for lots of different activities and bring people together behind a common purpose. The National Lottery Heritage Fund is pleased to support  Glen Urquhart Community Council  in its plans and, thanks to National Lottery players, enable people to enjoy the history on their own doorstep."
And George Findlater, Head of Partnerships and Projects at Historic Environment Scotland, said: "We  welcome the opportunity to support and advise the Glen Urquhart Community Council and the wider community in this work. Cnocan Burraidh is a small site with an important history, and the project will conserve an important element in the Community Council's plans for the future. We very much look forward to working with local people on this and other projects in the years ahead."
Next Steps
You can get involved in many ways from researching a topic; clearing scrub or helping at an activity, we would be grateful for your time.
If you would like more information on progress to date please get in touch.
Contact Nicky:  [email protected]
---
Board Meeting Date – Cancelled
30th April 2020 – Cancelled
Board Meeting information:
The meeting will not take place in a face-to-face setting. The Directors will meet through virtual technology.
The funding drop-in sessions will take place by telephone or digital technology at 6.30pm – please contact Carol or Nicky to arrange.
If you have a  query please contact Carol  [email protected]  Nicky [email protected]
---
Soirbheas 2019 Photography Competition Results
Well done to all of you who entered our photography competition.  We were impressed by the standard of entries and the SSE Community Fund Team had a tough time picking the winners!
For details of the winning entries please click here.
---
AbilityNet
Business as Usual
AbilityNet supports people of any age, living with any disability or impairment to use technology to achieve their goals at home, at work and in education. They do this by providing specialist advice services, free information resources and by helping to build a more accessible digital world. Their services include:
The CEO has issued the March newsletter with an update on service provision and how they will continue to support their clients during the coronavirus pandemic. You can view the news here, or by visiting the AbilityNet website
---
Community Sketch Show – Postponed
Cnocan Burriadh – The Grants
Postponed until later in the year.
With the expert direction of Amanda Luscombe-Smith, the Community Council are preparing a sketch show to tell some of the stories of the Grants of Glenurquart. This includes sketches on ownership of Urquhart Castle; involvement in battles and wars; shinty matches with over 400 players; invention of an electric car and dog breeding.  There are so many interesting stories but they can't all be covered in a couple of hours, so a book and family tree are also being prepared.
Tickets will be limited when they go on sale as we are only staging the show for one night.  But it is being filmed for people to watch at their leisure and as part of the historical record. How You Can Be Involved
There are some speaking and non-speaking parts available.
Perhaps you would like to help with costumes or making sets?
Could you help on the night – moving scenery, taking tickets or helping with the teas?
Do you have a raffle prize or tartan / plain fabrics you could donate?
And of course, help with the restoration element of the project is always welcome.
If you would like to take part please contact Nicky on 07842 781986 or email [email protected]
---
Corrimony Wind Farm Performance for 19/20
---
Changes to waste and recycling during Coronavirus
The Highland Council's Waste and Recycling team are reminding the public that all Council run Recycling Centres are currently closed and garden waste and the bulky uplift services have been suspended until further notice.
Householders are being asked not to put out their brown bins as they will not be emptied.
Every effort is being made to continue the regular domestic weekly waste and recycling collections, however the Council is highlighting extra measures anyone self-isolating should take.
Anyone self-isolating due to displaying symptoms of coronavirus is asked to ensure that all waste items that have been in contact with the individual, such as tissues and cloths, are disposed of securely within disposal bags. When full these bags should be placed in a second bag and tied and then stored for 72 hours before being put out for collection.
Carron McDiarmid, Executive Chief Officer for Communities and Place said: "Currently our rubbish and recycling collections are operating as normal, however, due to staff shortages, in the future we may need to suspend some services at short notice due to staff shortages. In the meantime people should put out their bins for collection as normal for 7am on their scheduled day but if the bins are not emptied by 5pm please take them off the street and put them out again on the next scheduled collection day."
She added: "The message we want to get across is for people to check our website regularly as the situation is changing rapidly."
Regular updates on the rubbish and recycling services will be provided on the Council's website and social media channels. There is also a link to specific information and guidance for customers – https://www.highland.gov.uk/info/1054/rubbish_and_recycling/905/rubbish_and_recycling_guidance_-_coronavirus_covid-19
 Any queries about waste and recycling services should be sent to [email protected] or people should telephone 01349 886603
---
Photo Competition Open

Photography   Competition 
The Soirbheas 2020 Photography Competition is now OPEN until midnight on Friday 19 June 2020.
It is open to residents of all ages in our communities.
PRIZES:
£50 voucher to the winner in each category
£100 to a nominated local constituted group of charity (winner in each categories choice)
Bonus Prize Draw – one lucky member will win this extra prize!
So, dust off your camera, check the storage on your phone and start snapping.  You can submit up to three entries – one for each theme:
Hobbies or new projects undertaken due to lockdown– the projects we have started or finished because of lockdown and new hobbies to keep us occupied.
Out and about on my daily excursion – local views or points of interest
Life in Lockdown – what or who made me smile, inspired me or kept me going when things got tough.
There are two classes:  adults (over 18) and (young people) under 18's .
Download and read the guidance and rules here
Download and complete an  entry form here
If you do not have access to email please contact Nicky for an alternative way to submit your entries.
You do not need to be a member to enter the competition.  But if you would like to become a member and be entered into the bonus prize draw please complete and return an an application form.
Junior (12 – 16) Membership    Adult Membership
Any queries or questions, problems with technology etc contact Nicky [email protected]
Click here for a reminder of the winners last year – could it be you this time?
---
Launch of Community Helpline
Help in the Strath & Glen
To download this information Community Helpline
---
Awareness Sessions – Postponed – To be re-scheduled
Reducing Barriers to be a more inclusive community.
Although the snow disrupted our start time, our first topic in the OpenNESS project was delivered on the 27 January.  Amanda gave us some really useful information on hearing loss and how we can communicate best with people with a hearing loss. On the 24 February Gill MacLennan delivered a session on Autism Awareness.
Unfortunately due to the Coronavirus we have taken the decision to postpone the sessions planned until further notice. Watch our news pages for re-scheduled dates.
If you are interested in particular topic being covered, or if you have any queries contact Nicky [email protected]
See more about the OpenNESS – Inclusive Communities on our project page.
---
Superfast Broadband Update
Delay for R100 for North Area
In the DSSB February newsletter – 'In the Loop' –  it has been announced that while contracts have been awarded in South and Central Scotland areas, there has been a delay for the North.
However, in the meantime, additional support will be provided to ensure that everyone can have access to superfast broadband services by the end of 2021 – with grant funding delivered through a national demand-led voucher scheme funded by the Scottish Government.
See more in the current  DSSB newsletter
---
Corrimony Wind Farm Results
Calm to Windy this Quarter
Despite a very calm November January, by contrast, has been an incredibly windy month and by far the highest in terms of energy production to date.
---
Seed Tatties
Only a few seed tatties left!
We had a really successful tattie day last Saturday – 7 March.  Many thanks to Transition Black Isle for sourcing such a super variety of tubers.  And a very big thank you to the Horticultural Society for coming along to give advice and serve tea and cakes.
The schools and nursery have had their orders delivered – happy growing everyone.  We'll look forward to seeing the competition entries from the Nursery and Glenurquhart Primary School at the Glen Urquhart Horticultural Society Annual Flower Show on Saturday 29th August.
We only have a few tubers left, let Nicky know if you would like to buy any, only 20p each [email protected]
---
Let's Get Growing!
Saturday 7th March
Soirbheas continues on its quest to encourage the communities of Strathglass and Glen Urquhart to grow more potatoes and veg!
This is the sixth year running that Soirbheas will be selling and distributing over 2,000 seed potatoes to individuals, local schools and nurseries to be grown in the community.  The project inspires children, families and the wider community to grow and eat more locally grown potatoes; a cheap, versatile and nutritious food staple. By growing our own, we help to reduce our food miles; cut down on waste and growing our own is also very satisfying too.
As part of the project, Soirbheas hosts its popular Tattie Sale Day on Saturday 7th March from 2pm – 4pm in the Glen Urquhart Hall, Drumnadrochit.
With over 20 varieties of seed potatoes available to choose from on the day, along with tips on getting the best yields, advice on suitable varieties and how best to store and cook your tatties.
With waste reduction at the forefront of all our minds, we will also be promoting home composting. Come along to get some advice on what system might work best for your situation or how to resolve a problem with your compost.
Also pick up copies of our favourite tattie recipes including a scrumptious Chocolate Potato Cake, a hearty Potato & Ham Soup and delicious tattie scones. We also have free food waste reduction packs to give away.
Join us for a cuppa and chat after you have bought your tatties. Whether you are new to growing or an old hand at gardening or just love tatties we are confident that this event will inspire you to grow your own!
All proceeds from the sale of the seed potatoes will go towards funding other community growing projects in Glen Urquhart and Strathglass.
Thanks go to Transition Black Isle and Glen Urquhart Horticultural Group for their on-going support with this project.
For a list of varieties on sale on 7th March.
---
Job Vacancy
Part-time Coordinator 
Glenurquhart Care Project are recruiting a part-time co-ordinator for the volunteer befriending and support service.  See the advert for outline of the role.
For further information and a job pack please contact Pam Poston  Email:  [email protected]  T: 01456 459077
Closing date 28th February 2020.
---
Corrimony Wind Farm Performance in December
---
Respite Breaks – Loch Ness
February  2020  
Are you are carer or cared for person, and would like to take a break?  We are delighted to offer through our partnership – OpenNESS – Inclusive Communities project – respite breaks at The Clansman Hotel.
Subject to availability, during February eligible guests can stay at the hotel in an en-suite double/twin room with breakfast for £50 per room, per night. Or book the self-catering cottage that sleeps 4 for £100 per week.  There are also discounts on food purchased at the hotel (not drinks), and the opportunity to take part in the 'have one on us offer' with other Cobbs partners.
Services can also be booked at the Glenurquhart Care Centre for elderly visitors.
Connecting Carers have some funding available to support their clients, contact details in the leaflet or speak to your link worker.
Whether you are travelling 5 miles or 500 miles; are looking for a base while a loved one attends hospital or are taking a trip as a family or group, a warm and friendly welcome awaits you.
Please see our leaflet for more details about our project, the offer and how to book.
---
Annual Tattie Day
7th  March  2020
There is nothing quite like a home grown potato (tattie) as part of your dinner – they are versatile, nutritious, filling and easy to grow.
Planning is underway for our annual tattie day. We are in Glenurquhart Public Hall, Drumnadrochit, from 2pm – 4pm on Saturday 7 March.
We will have 20 varieties available, both early and main crop. And because we offer the tubers (seed tatties) loose you can select the number you need – so no waste from the string bags sold in shops.  This also means you can try growing a different type of tattie or range of varieties instead of sticking to one.
If you haven't grown tatties before, the Horticultural Society will be on hand with hints and tips on growing and care. Come and share your stories and enjoy a cup of tea/coffee.
See our Tattie Project page for more information.
---
Soirbheas Newsletter
Autumn  2019    
Our newsletter should have arrived through your e-mail or letterbox.  It is packed with lots of information on the work we do, the projects we support and the grants we award.
If you haven't received a copy you can sign up for future news using the link on our home page 
Or we would be delighted to welcome you as a member. Membership is free and open to everyone aged over 12 in the community council areas of Glen Urquhart and Strathglass.
See more information on our membership web page
or contact Carol for more information.
---
Wind Farm Performance
Latest Results
---
Soirbheas Grants Available
3 Tiers of Funding
Tier 1 – If you have a smaller project that you need help funding, please get in touch, we may be able to help with our express grant for up to £500. Tier 1 is our rolling programme with no deadline date. Past projects include purchase of display boards, badge books and trips.
Tier-1 Guidelines
Tier 2 – Need help with a project between £501 and £10,000? Up to 90% grant available. Previously we have funded options including purchase of electric trike and help with music projects.
Applications to be submitted by 20th February 2020.
Tier-2 Guidelines
Tier 3 – currently closed
See our Grants Page for application forms and more information
Apprenticeships – currently closed
Thinking of taking on a modern apprentice, age 16 – 24 ? We could provide a grant to help with wage costs and equipment. There are over 80 Modern Apprentice frameworks which could attract funding for up to three years.
See our Apprenticeship Page for application forms and more information
Next Steps
Have a read of the criteria for the grant you are interested in – links above.
Then get in touch with Carol or Nicky to discuss your project
[email protected]
---
Awareness Learning Session 27 January
Sight & Hearing Impairment
OpenNESS – Inclusive Communities
Following feedback regarding training and learning to be available in local locations at convenient times, we have organised a series of awareness sessions in Drumnadrochit.  Whether you are a business owner; employee; volunteer or resident in our communities, these sessions are suitable for you.  They are bite-size – lasting an hour – with time to speak to the presenter at the end if required.
Topic: Sight and Hearing Impairment
We are delighted to welcome specialist presenter Amanda Wilson, Manager at See Hear Highland Education & Learning Services, to deliver the session.
Aim:  Improve your confidence in how to communicate and support family, neighbours, customers or visitors who have a sight or hearing impairment.
Date:  Monday 27 January 2020
Time: 10.30 am – 11.30 am
Venue: Glenurquhart Library, Drumnadrochit, IV63 6XA
Cost: Free
Arrive: 10.15 am for tea/coffee
Accessibility: please let Nicky know if you have any special requirements
Contact: Nicky email: [email protected]  Tel: 07842 781 986
Dates for your Diary: Our sessions are all free, everyone welcome and being delivered on the last Monday of  the month,  between 10.30 – 11.30 in Glenurquhart Library
24 February – Autism Awareness and Support
27 April – Dementia Friendly (tbc)
25 May – Supporting Mental Health and Dementia in the Outdoors
29 June – Supporting Wellbeing – Health and Diet
---
Eden Project Community Camps
New Date – March 2020   
Applications are open for Eden Project community camps from the 13 – 16 March 2020
For more information, please go to https://www.edenprojectcommunities.com/community-camps. It would be great to see places filled from the north of Scotland!
The Community Camps are residential experiences held at the Eden Project in Cornwall, offering a mixture of practical activities, workshop sessions and networking opportunity.
The Camps are for people across the UK who want to start a community project or are already doing something and want to take the next step. They are suitable for people who are just starting out on their journey, or those who are more experienced but keen to learn from and share with others. The cost of travel and accommodation is included for successful applicants who can spare around 4 days to attend the camp, and are committed to putting time back in to their community when they return.