2019
Strathglass Community Fund
Strathglass Communiuty Fund is inviting grant applications for the second round of the benefit payments, between 1st May and 31st July 2019. Applications will be assessed and scored in July and August. Grants will be awarded in August/September. Small grant payments can be made in August/September, larger payments will be made in October once the 2019 community benefit has been paid to us.
A total fund of £26,500 is expected for 2019. The majority becomes available during September and October. We will assess each application individually and endeavour to distribute funds fairly. There is no minimum or maximum limit on grant applications.
Our charitable objectives, a copy of the Dipper Grant application form and further information are available on the SACC website.
Current board members are:
• Claire Roberts (Chair)
• Roddie MacLennan (secretary)
• Sheena Thomson (Treasurer)
• Donald Fraser
• Liz Balharry
If you would like help or advice about your application please contact one of the board members or email scfdipper@gmail.com and a board member will get back
Soirbheas Apprenticeship Grant Scheme Update and Deadline
We are pleased to announce that the Soirbheas Apprenticeship Grant Scheme is now offering local businesses up to £22,500 (over 3 years) to support employment of a modern apprentice. The scheme will pay a maximum of 80% in year 1, 60% in year two, 40% in year 3 of the wage costs. Plus, up to £1,000 towards equipment directly for the benefit of the apprentice.
The final amount awarded will vary depending on the age of the apprentice at the start of the apprenticeship, the needs of each business, the apprenticeship being undertaken and availability of other funding.
Priority will be given to businesses primarily based or who serve Glen Urquhart and or Strathglass and to young people who reside in either Glen Urquhart or Strathglass. Soirbheas may consider supporting young people coming to work in the community and young people from the community being employed as an apprentice outside the area on a case by case basis. Early discussions prior to submitting any application is essential.
The next deadline for applications is Thursday 2nd May 2019. Please get in touch if you would like to discuss a potential application.
Please click here for the Grant Leaflet or for the full guidance and application form go to https://www.soirbheas.org/apprenticeship-programme/.
Transport Feasibility Study – Please help us!
Urban Foresight has been engaged to undertake a transport feasibility study covering the Glen Urquhart/Strathglass area on behalf of Soirbheas.  The project develops actions identified in the Local Energy Plan (LEP) for Drumnadrochit, such as a number of low carbon transport solutions. The study has secured CARES funding as well as support from The Highland Council.
The study will aim to identify the viability of different transport options with a view to improving the transport provision for both residents and visitors to the area.
Three surveys have been designed to capture residents, young peoples and visitors' views on the challenges and opportunities surrounding the local transport provision.
Residents and visitors of all ages are encouraged to get involved by completing the survey appropriate to them by the end of July 2019.
The links are:
Thank you for your support!
Transport Survey – Please help us!
As you are hopefully aware one of the outcomes of the Drumnadrochit Local Energy Plan was to undertake a Transport Feasibility Study to highlight the transport challenges in Glen Urquhart and Strathglass and try to establish some workable solutions. Urban Foresight have now been appointed to develop the study, and ascertain the viability of the different solutions identified. We would be grateful if you could spare 10 minutes to complete this short survey, to help inform our research if you live or work in Glen Urquhart or Strathglass.
The short survey is available here.
A PDF version is available here.
Feel free to contact Kate Palmer (Kate.Palmer@UrbanForesight.org) if you have any further questions about the survey or the project. Thanks in advance for your help and cooperation.
Soirbheas Photography Competition – Deadline Extended by 24 hours!
We are giving you an extra 24 hours to get your entries in to our 10th anniversary photography competition.  Why not check your phone or digital camera for suitable photos taken in Glen Urquhart or Strathglass over the past year?  Winning entries will receive a £50 voucher and £100 for a local group or club!
There are three Themes:
1. Our landscape and wildlife
2. Our community and activities
3. Our landmarks and iconic buildings
We are looking for entries from the following age groups:
1. 12 & under
2. 18 & under
3. Adults
Please submit your entries to info@soirbheas.org by midnight on Tuesday 18th June.  GOOD LUCK!
Entry Form
AGM Photography Competition Guidelines
Vacancy – Assistant Community Development Officer
Permalink – https://www.soirbheas.org/vacancy-assistant-community-development-officer/
For details of an exciting opportunity with us please click here.
Do You Love Your Tatties?
Local charity Soirbheas continues its quest to get the communities of Strathglass and Glen Urquhart to grow more! For the last 5 years, Soirbheas has delivered a Tattie Project, distributes over 2,000 seed potatoes to local schools and nurseries to be grown in the community. The project inspires children, families and the wider community to get growing and to eat more locally grown potatoes which are a cheap, versatile and nutritious food staple.
As part of the project Soirbheas is working with the Glen Urquhart Horticultural Society to hold its annual Tattie Sale Day on Saturday 2rd March from 2pm – 4pm in the Glen Urquhart Hall, Drumnadrochit.
With over 20 varieties of seed potatoes to choose from, along with tips on getting the best yields, advice on suitable varieties and how best to store and cook your tatties.
We would love you to bring along your favourite tattie recipes to share with others as part of our Great Tattie Recipe Swap which include a scrumptious Chocolate Potato Cake, a hearty Potato & Ham Soup and a tasty Potato Crusted Pizza!
This year we will be joined by Abriachan Forest Trust who will be cooking up some tasty tattie treats on an outdoor camp fire!
There will also be an opportunity to have a cuppa and chat with us after you have bought your tatties.
Whether you are new to growing or an old hand at gardening or just love tatties we are confident that this event will inspire you to grow your own tatties.
All proceeds from the sale of the seed potatoes will go towards funding other community growing projects in Glen Urquhart and Strathglass.
For more information on the event or a the list of available varieties please visit www.soirbheas.org or email info@soirbheas.org
Thanks go to Transition Black Isle for their on-going support with this project.
Funding Sessions – Soirbheas Grants
If you would like to have a chat with Carol about Soirbheas grants or have a project to discuss we are holding some funding sessions on Thursday 25th April at the Glen Urquhart Library from 6pm – 7.15pm.
To book a slot contact carolmasheter@soirbheas.org.
Information on our grants can also be found here.

Project Consultant Required for a Rural Community Transport Feasibility Study
Closing Date: 5pm 11th March 2019
We are seeking a consultant to undertake a Transport Feasibility Study with the following aims –
To identify viable options to improve public and community transport services and ultimately reduce car usage across the community area.
Consult with potential partners including the Highland Council and other local and community providers.
To improve links between the main communities in the area and to increase the use and availability of community transport.
Explore viable active travel options and identify solutions for decarbonisation of transport.
For the Transport Feasibility Tender Brief click here..
For further information please email carolmasheter@soirbheas.org
Latest results on Corrimony wind farm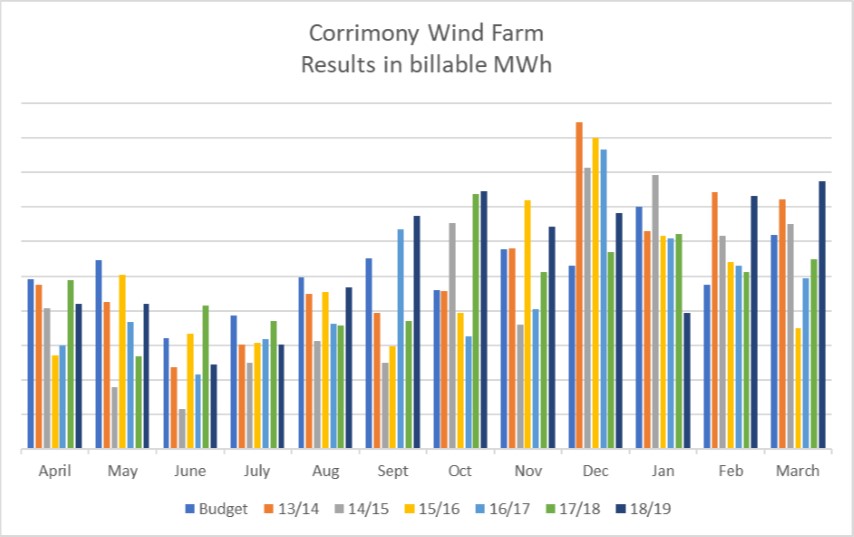 Beauly & Glens Helping Hands Befrienders: Co-ordinator Vacancy
The Tattie Sale Day is back for 2019!
Soirbheas Directors Vacancies
Soirbheas is a local community company and charity established in 2009 to invest in the communities of Glen Urquhart & Strathglass by distributing funding generated from renewable energy schemes. We are on a journey to make our communities a more attractive place to live, work and to protect our environment for future generations. The significant funds being raised from a range of renewable energy schemes are being invested within the community via grants and community development projects.
To support the charity in its next phase of activity, we are seeking applications from enthusiastic individuals with a passion for our area to join our diverse and capable Board. As a Director, you will be jointly responsible for ensuring that the Charity complies with its objectives and governing document as well as all relevant legislation and regulations. You will participate in Grant Assessment and use your skills and experience to assist the Charity in delivering its aims for the benefit of communities and groups across Glen Urquhart and Strathglass.
Joining our board provides an opportunity to serve your community and to give something back that benefit many groups and individuals in our area.
We are inviting candidates who reside in either Glen Urquhart and Strathglass to apply. We are particularly interested in attracting community spirited candidates with the following attributes and availability:
Good knowledge of the community/voluntary/charity sectors.
Good knowledge of the needs of our communities.
Good understanding of finance and governance.
Willing and able to commit the time and effort (only 10 meetings per year).
Meet the rest of the team!
For further information please contact the Carol Masheter, Soirbheas Community Development Officer – by email carolmasheter@soirbheas.org or phone 0751 445 2783
Drumnadrochit Local Energy Plan – Can you help?
Further to the development of the Drumnadrochit Local Energy Plan in 2018, a delivery group is being formed to take forward the proposed actions which will help to address Energy Efficiency, Energy Generation, Transport and Smart Energy Systems in our community. A number of projects are already underway including a transport feasibility study and an improved heating scheme for the care centre. We are seeking enthusiastic individuals that are keen to making things happen and join the delivery group. The first meeting is on Wednesday 16th January 7pm at Craigmonie Centre.
For further information or for a chat about the group please contact Carol Masheter on 0751 445 2783 or email carolmasheter@soirbheas.org.
Rural Affordability Warmth Project – Benefits & Energy Advice Session
Do you want to reduce your carbon footprint?
Published on: Jan 9, 2019 @ 09:17 Edit