2018
Green Living Day – Schedule of Tasters, Talks & Training!
Published on: Sep 26, 2018 @ 12:05
Green Living Day – Saturday 29th September
Published on: Sep 21, 2018 @ 14:41
Soirbheas Autumn 2018 Newsletter
Published on: Sep 18, 2018 @ 12:03
The Autumn 2018 Newsletter is now available with information about some interesting events coming up and updates on what we have been up to!
A very rewarding opportunity!
Published on: Sep 13, 2018 @ 12:12
Directors Vacancies for Soirbheas
Deadline 31st October 2018
Soirbheas is a local community company and charity established in 2009 to invest in the communities of Glen Urquhart & Strathglass by distributing funding generated from renewable energy schemes. We are on a journey to make our communities a more attractive place to live, work and to protect our environment for future generations. The significant funds being raised from a range of renewable energy schemes are being invested within the community via grants and community development projects.
To support the charity in its next phase of activity, we are seeking applications from enthusiastic individuals with a passion for our area to join our diverse and capable Board. As a Director, you will be jointly responsible for ensuring that the Charity complies with its objectives and governing document as well as all relevant legislation and regulations. You will participate in Grant Assessment and use your skills and experience to assist the Charity in delivering its aims for the benefit of communities and groups across Glen Urquhart and Strathglass.
Joining our board provides an opportunity to serve your community and to give something back that benefit many groups and individuals in our area.
We are inviting candidates who reside in either Glen Urquhart and Strathglass to apply. We are particularly interested in attracting community spirited candidates with the following attributes and availability:
• Good knowledge of the community/voluntary/charity sectors.
• Good knowledge of the needs of our communities.
• Good understanding of finance and governance.
• Willing and able to commit the time and effort (only 10 meetings per year).
Meet the rest of the team!
For further information please contact the Carol Masheter, Soirbheas Community Development Officer – Email: carolmasheter@soirbheas.org Mob: 0751 445 2783 www.soirbheas.org
Keeping Warm in Older Homes Event
Published on: Sep 7, 2018 @ 10:56
Your Cash Your Choice is back!
Published on: Aug 28, 2018 @ 09:34
CARES Funding Available for Renewable Projects
Published on: Aug 27, 2018 @ 13:49
The next deadline to apply for funding from the Scottish Government's Community and Renewable Energy Scheme has been extended to 10th September. Groups looking to get a share of the £5 million funding pot for locally owned renewable energy projects are encouraged to get in touch with their local Development Officer who will be able to guide them through the process.
As well as supporting organisations to develop their own energy ideas, this funding can be used to support the replication of projects which have worked well. One example is the CARES funded project at Comrie Croft, which combines solar power with energy storage and electric vehicle charging.
What's available?
CARES has three funding streams to help communities, not for profit groups and rural businesses realise their local energy ambitions:
• Enablement Grants of up to £25K to help progress energy systems projects, renewable energy projects, investigation of shared ownership or maximising the impact of community benefit
• Development Loans of up to £150K to fund development costs, taking projects from feasibility through to procurement for a design and build contract
• Innovation Grants of up to £150K to accelerate new innovative activity and encourage replication of previous projects
The closing date for applications to this funding round is 10th September 2018. Details of the next funding rounds are available here.
Green Living Day
Published on: Aug 21, 2018 @ 15:08
Exhibition: Strathglass Heritage Trail Project
Published on: Aug 21, 2018 @ 10:41
Green Living Day – Saturday 29th September
Published on: Aug 9, 2018 @ 08:20
Save money, have a warmer home and be healthier!
Soirbheas along with partners Home Energy Scotland, Abriachan Trust & the Glen Urquhart Childcare Centre are hosting a Green Living Day on Saturday 29th September 2018 in Drumnadrochit from 11am—3pm at Glen Urquhart Hall. There will be opportunities to test drive an e car or e bike, drop ins and tasters session, money saving tips and lots more to get you inspired! More details will be available soon!
Please put the date in your diary so you can come along!!
Soirbheas Apprenticeship Grant Scheme Update
Published on: Aug 3, 2018 @ 07:36
Through support from Soirbheas' apprenticeship grant scheme two young people living in Strathglass are being given a great start with their careers.
The apprenticeship scheme is supported by funds from Scottish & Southern Energy (SSE) Bhlaraidh windfarm near Glenmoriston Estate.
Carol Masheter, Soirbheas' Community Development Officer said, "We are delighted to have two apprentices funded by the Charity starting this summer, one at Tomich Holidays in Estate Maintenance and a second in Childcare at the Summerlings Outdoor Nursery (part of The Sheiling Project). We work very closely with the business to make sure they have the support to allow them take on a Modern Apprentice, it's very exciting for all parties to finally be at this stage and to see two new jobs created."
The Soirbheas apprenticeship grant scheme is aimed at supporting local business (based in Glen Urquhart and Strathglass) to employ a young person (aged between 16 – 24) to undertake a Modern Apprenticeship. The fund will support up to 50% of the salary costs over 3 years as well as specialist equipment costs up to £1,000.
Employing a modern apprentice might be just the boost your business needs to expand or develop a new service. The charity is keen to hear from local businesses who are interested in making an application for the next deadline on 29th October 2018. We encourage local businesses and young people (aged 16 – 24) from Glen Urquhart or Strathglass to get in touch discuss the opportunity – contact Carol Masheter, Community Development Officer carolmasheter@soirbheas.org or 0751 445 2783.
There are further details and a summary for young people and businesses at https://www.soirbheas.org/apprenticeship-programme/
Glenurquhart Care Housing Project – Urgent Funding Appeal
Published on: Jul 18, 2018 @ 14:03
GCP is appealing for donations to help close the funding gap to start the construction of these houses over the rest of the summer. These houses will be owned and managed by The Glenurquhart Care Project and will be allocated to people from our community. The GCP housing project has made massive progress over the past few weeks with the following funding confirmed:
• £794,000 from the Scottish Government Rural Housing Fund – Grant
• £100,000 from SSE Highland Sustainable Development Fund – Grant
• £100,000 from the Wolfson Foundation
Additionally Social Investment Scotland (a charity investment bank) have approved a loan for up to £485,000. This leaves the project just a few thousand short of the required budget of £1.5m and so we are, going to launch a GCP Just Giving Page to allow people to donate to the project.
We would be most grateful for any donations to this fantastic cause and if you do not want to wait for the Just Giving Page, or just don't want to donate in that way, please either:
• Send or call in with a cheque to the Glenurquhart Centre and make sure it is clear that it is for the housing project. Please indicate if you wish this donation to be Gift Aided
• Make a payment direct to the Glenurquhart Centre account and include the reference " Housing" using the following account:
Caf Bank
Account Name : Glenurquhart Care Project
Account No : 00006910
Sort Code : 40-52-40
For more information click here.
Announcement – Capital Cash Injection to the Glens
Published on: Jul 12, 2018 @ 12:32
Soirbheas has just announced plans to launch a new grant programme – a Tier 3 Capital programme for £10,001 – £30,000. Aimed at funding larger, more ambitious local projects this programme builds on the charity's experience of smaller grant awards which has now seen over £150,000 pumped into local projects since the organisation first started awarding grants back in 2014.
The charity was established to strengthen and support the communities of Glen Urquhart and Strathglass, through revenues from local renewable energy schemes. The funds received from these schemes are distributed to local community projects in the form of grants and community development projects to help protect the environment and to provide and develop more resilient communities.
Alan James chair of Soirbheas said "We are now in our 5th year of charity awarding grant funding and it's extremely rewarding for the board to be in a position to launch the new capital programme. We look forward to the community coming forward with ambitious and creative projects, new partnerships developing and ambitions becoming reality and continuing to see the communities flourish."
As well as launching the new grant programme with a deadline for expressions of interest forms submitted by 12th September; the next deadline for Tier 2 (£501 – £10,000) grant applications closes on 13th August. The most recent grant awards made by the charity include: £9,600 to Glenurquhart Childcare Centre to develop the outdoor play area, £500 to Glen Urquhart Heritage Group to host a World War 1 exhibition and £500 for the Clachan Comar Fund for the restoration work to an ancient burial ground at Kerrow.
For full details on Soirbheas community grant guidance and application forms please see https://www.soirbheas.org/soirbheas-grant-programme/
NHS Highland Technology Enabled Care
Published on: Jun 21, 2018 @ 10:31
Technology Enabled Care or TEC is the application of technology to support people to self-manage their own health and stay happy, safe and independent in their own homes. They are based in the Centre for Health Science in Inverness and offer both telecare and telehealth services.
The NHS Highland telecare team offers a range of sensors that can trigger an alert to either the Highland Hub Response Centre or an internal pager to get you the help you need. Telecare can give peace of mind for you and your family 24 hours a day, 7 days a week. They want to help everybody to live independently and safely in their own home with confidence, whatever their situation. The Team have a wide range of telecare solutions to suit individual needs, if you think you would benefit from telecare or just want to know more about the service please give them a call on 01463 255916.
For more information click here.
Climate Challenge Fund Information Surgery – Inverness
Published on: Jun 19, 2018 @ 10:22
Community-led organisations wanting to know more about applying for funding from the Climate Challenge Fund (CCF) are invited to attend one of the Information Surgeries taking place all over Scotland in June and July. The CCF provides grants and support for community-led organisations to tackle climate change by running projects that reduce local carbon emissions.
The Inverness session takes place on Tuesday 10th July from 12.45-17:00. To book on and find out more information click here.
The Fund has supported projects involving energy efficiency improvements to community owned buildings, home energy efficiency advice, lower carbon travel options, community growing initiatives and schemes to tackle waste.
The Information Surgeries will include:
• A presentation from Keep Scotland Beautiful to introduce the CCF, climate change and the support that we provide to applicants
• A chance to learn more about locally funded CCF projects
• Information on support available for CCF applicants (and more widely) from partner organisations such as Zero Waste Scotland, Home Energy Scotland and Local Energy Scotland (please see individual booking pages for organisations confirmed as attending)
• An open question and answer session and chance to discuss project ideas with other attendees
• A chance to talk through project ideas one-to-one with CCF staff and partner organisations
Tea, coffee and light refreshments will be available at registration and after the presentations.
Glenurquhart Care Project Meeting
Published on: May 23, 2018 @ 13:44
GURCA Public Meeting – 22nd May 2018
Published on: May 15, 2018 @ 10:54
Volunteering @ Abriachan Forest Trust
Published on: Apr 25, 2018 @ 11:40
Forest School Leader Training
Published on: Apr 25, 2018 @ 09:58
Soirbheas Apprenticeship Grant Scheme – Deadline Reminder
Published on: Apr 24, 2018 @ 11:10
Please note that the deadline for the latest round of applications for our Apprenticeship Grant scheme is Wednesday 2nd May 2018.
The scheme has been launched to support local business to employ and train a modern apprentice. The scheme will support up to 50% of the salary cost for up to 3 years while the young person (aged 16 – 24 year) is undertaking the apprenticeship. If you are a local employer , a young person or parent interested to learning more then please get in touch carolmasheter@soirbheas.org.
Further details are also available here.
Just Enterprise
Published on: Apr 19, 2018 @ 12:09
Since the launch of the Just Enterprise programme in 2011 over 7,000 people located across the length and breadth of Scotland have taken advantage of one of more of their range of services – from start up to business support to learning and leadership – all tailored specifically to address the needs of the third sector.
They are currently accepting applications for their business support services from both new and existing clients. By providing tailored business consultancy support free of charge to existing Third Sector organisations across Scotland they help them increase their trading income and become more enterprising and sustainable. Whether you are planning to develop new projects, promote new activities or innovative services, improve operational efficiency or strengthen the infrastructure of your business, Just Enterprise's consultancy service is here to help you achieve your aims. Just click on the following link for details of the support available and to register your interest:
http://justenterprise.org/business_support.html
Latest Windfarm Results – March 2018
Published on: Apr 19, 2018 @ 11:36
Drumnadrochit Local Energy Plan – Survey Two
Published on: Apr 9, 2018 @ 11:26
Soirbheas obtained support from Local Energy Scotland to work out how people and businesses in Drumnadrochit might use energy and fuel more efficiently to benefit the local community. The Drumnadrochit Local Energy Plan is led by a steering group including Soirbheas, GURCA, the Chamber and the Community Council.
Your support will help to develop a Drumnadrochit Local Energy Plan which in turn will help develop a Drumnadrochit Community Action Plan.
Following on from the 1st survey which closed recently we would now appreciate if you could complete the 2nd survey at the link below which asks how appealing specific energy projects are for you.
https://goo.gl/forms/z4vKkDdc0ajz5Tsy1
This survey includes examples of similar projects to illustrate those being considered for Drumnadrochit. However, project benefits and impacts will be different for Drumnadrochit, and therefore information in this survey is not suitable to make project decisions.
For more information go to https://www.soirbheas.org/coben/
Soirbheas Grant News
Published on: Mar 27, 2018 @ 11:14
We are delighted to confirm we have awarded grants to Glenurquhart Bowling Club for a Bowling Wheelchair and to Strathglass Shinty Club for junior equipment.
Joni Strachan from the Shinty Club reports that "New equipment will make a real difference to the youth section and enable more young people to get involved. Everyone is looking forward to having lots of Shinty fun this season and beyond. Thank you Soirbheas from all at Strathglass Shinty Club."
Please note the next Tier 2 deadline is Monday 2nd April.
If you would like more information about applying for one of our grants please click here.
Drumnadrochit Local Energy Plan Survey
Published on: Mar 14, 2018 @ 10:14
Tattie Sale Day – Tomorrow!
Published on: Mar 2, 2018 @ 13:14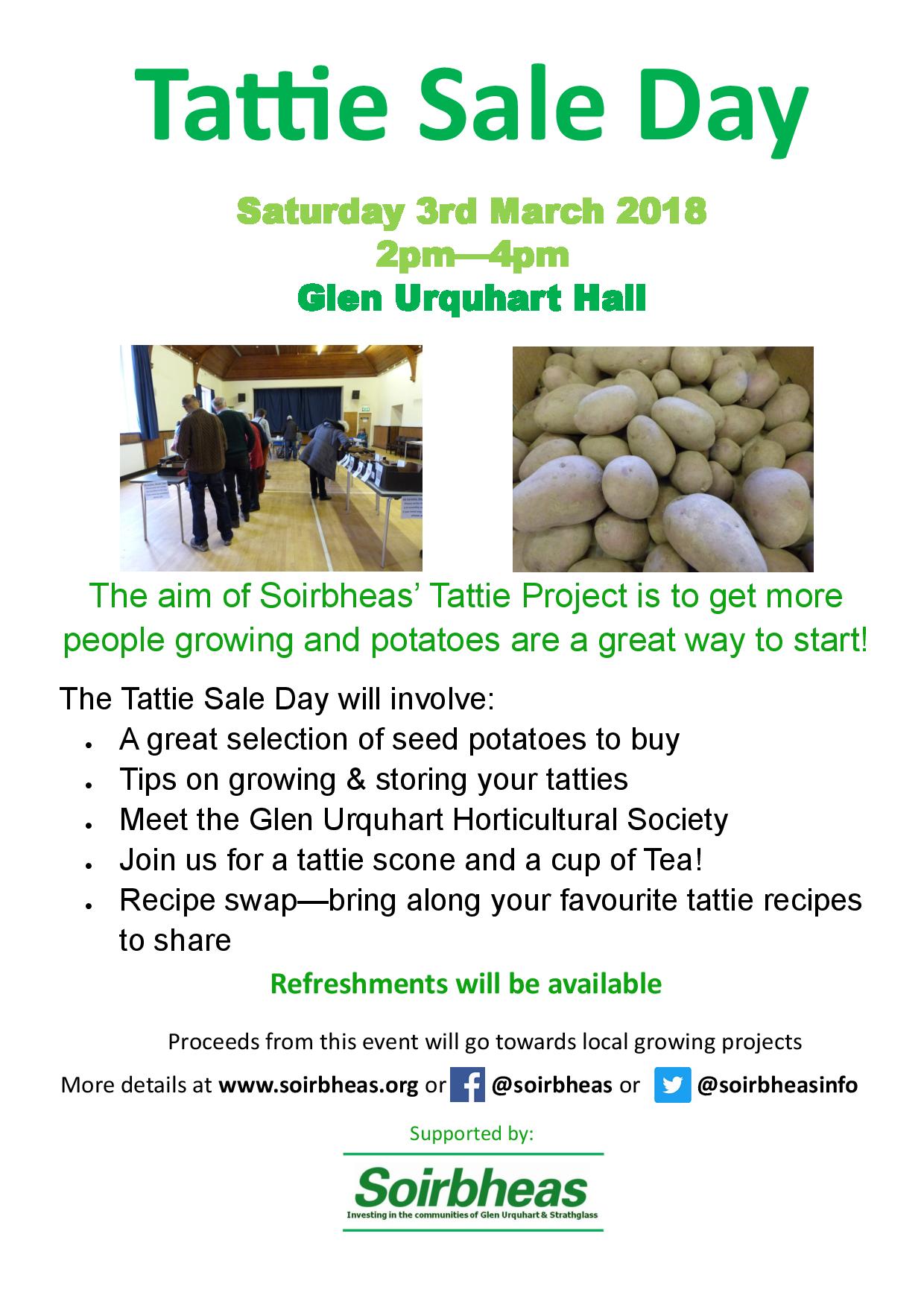 Change of focus for Community Broadband Scotland
Published on: Feb 22, 2018 @ 09:55
Following the launch of a Scottish Government procurement for suppliers to deliver superfast broadband to 100% of Scottish premises by 2021, Community Broadband Scotland's (CBS) role is changing, to become the HIE Digital Communities team.The £600m Scottish Government digital investment incorporates an investment in infrastructure for Scotland's most remote areas. As a result, the HIE Digital Communities team will refocus on:
1. delivering community broadband projects already committed.
2. giving advice to the previously supported operational networks
3. supporting the Scottish Government on elements of the Reaching 100% (R100) programme.
Relevant information and documents relating to previous CBS activity remain online here. Communities can keep up to date with the latest information on the current fibre broadband roll-out at www.hie.co.uk/digital
Zoe Laird, Head of Communities Infrastructure at HIE said: "We thank all of the communities who have engaged with CBS for their support, hard work and passion over the years. Some fantastic results have been achieved and the R100 programme looks set to have a transformative impact and truly bridge the digital divide."
For more information please visit our Community Broadband page here.
Soirbheas Spring 2018 Newsletter
Published on: Feb 22, 2018 @ 09:14
To read what we have been up to and details of some exciting projects click here.
Soirbheas Apprenticeship Grant Scheme
Published on: Feb 12, 2018 @ 11:17
Last year Soirbheas launched its apprenticeship grant scheme to support local business to employ and train a modern apprentice. The scheme will support up to 50% of the salary cost for up to 3 years while the young person (aged 16 – 24 year) is undertaking the apprenticeship. If you are a local employer , a young person or parent interested to learning more then please get in touch carolmasheter@soirbheas.org.
Further details are also available here.
Deadline for applications is 2nd May 2018.
Tattie Sale Day 2018
Published on: Jan 31, 2018 @ 11:04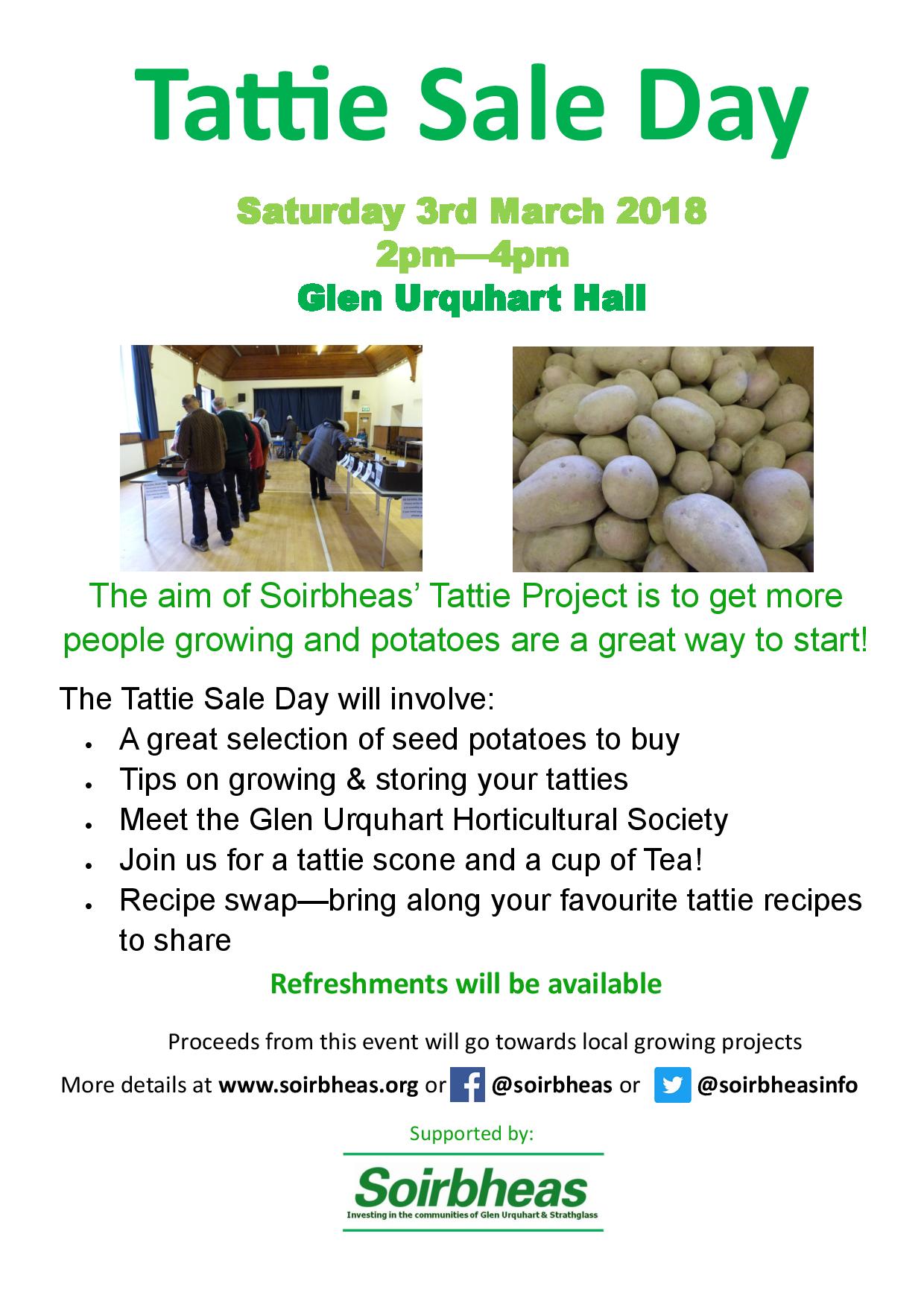 Get More From Your Heating Session
Published on: Jan 18, 2018 @ 09:47
Home Energy Scotland are running a session called 'Get More From Your Heating' on:
Thursday 1 February 6pm-8:30pm (doors open at 5:30pm)
Smithton Free Church, Inverness, IV2 7YU
At this session you will learn how to get the most from your electric heating and how our national grid is changing including the opportunities this presents. Hear the views of experts from Scottish and Southern Electricity Networks and Home Energy Scotland. They will also help you to make informed choices about how you can get the most from your electric heating and help you save money.
You can also sign up for a free home energy visit conducted by a Home Energy Scotland specialist who will provide you with bespoke advice suitable for your home, the savings you can make and incentives available.
Tickets to this event are completely free. Register now here or call on 0808 808 2282 for more information and to speak with one of our qualified energy advisors today.
Your Cash Your Choice
Published on: Jan 11, 2018 @ 12:08